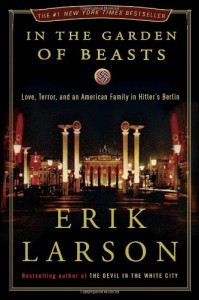 I wasn't expecting to enjoy this book as much as I did. I'd had some conceptual problems with Larson's previous book The Devil in the White City. I felt he'd found three really interesting stories that happened to occur during the same time and in the same place, but which were otherwise unrelated, and had smooshed them together. Smooshing things together was never an issue with In the Garden of Beasts, which is one of those rare historical books that have the tension and atmosphere of a novel.
The subject matter is of course fascinating (it's hard to make NAZIs boring), but Larson's prose is clear and evocative, and backed up by extremely thorough research. The actual subject of the book -- an exploration of Hitler's first year as Chancellor as seen through the eyes of an American diplomatic family, and the resulting transformation of Germany from a recovering nation to a fanatical, fascist one -- isn't one that is usually treated in works outside of academia. I like the way that Larson personalizes it. This story got inside my head. Larson takes you with him down that road of increasing paranoia, violence, hatred, and surveillance. I started having nightmares about NAZIs and actually had to stop reading the thing before bed. If nothing else, this book is a monument to a man that history seems to have forgotten about, who lived during a time that's usually overshadowed by what came after. I'm glad Larson took the time to record his story.
Bottom line: if you like reading narrative non-fiction, if you're an avid student of history, or if you just like reading about NAZI's, World War II, or diplomatic relations between countries, you should run out and get this book. I don't think you will regret it.